Select a link below to go directly to the section you are interested in:
Private Photo Sessions in Nature Pricing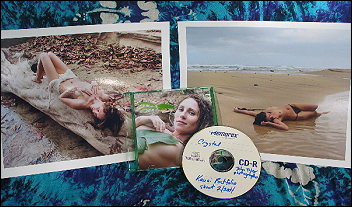 Because film and processing charges are saved when using this format, I can pass the savings on to you. Our standard session lasting 2-3 hours is $250. This is roughly 150-200 images which are then captured and saved to a photo CD for PC or Mac for you to take home. Since you have the Master CD, you can have any of your images printed by any digital printer whenever you'd like. The session is photographed in color and can easily be converted to black and white, sepia, or other toning effects. Images are photographed in high resolution to yield beautiful prints up to 16" x 20" in size.
Film-based Fine Art Photo Session
The standard session fee is $350 (possible travel expense additional) for approximately a 2-3 hour shoot. This includes four 8x10's made from your session, black and white or color, done professionally by the photographer.
Additional prints ordered by you, the client, can be done with as many images as you choose, with print sizes ranging from 5x7 to 16x20. As you are your own model for the shoot, pricing for your personal prints follow a low pricing structure different from the commercial "for sale" prints below. Actual fees vary because of printing options. Your new client welcome package will have a current price list or I can quote via email.
Welcome to the world of sacred scenes photography. I look forward to working with you. Please contact me with any questions you may have.
Nearly all artwork on this site is available for purchase following the rate table below. Inquire to the photographer directly regarding the availability of a specific print. These black and white images are created by a professional fine art photo processing lab under contract with the photographer. The prints are silver gelatin exhibition quality, fiber based, and are archivally processed. Mr. Tyler gives a full satisfaction guarantee on the quality of these prints.
Black and White
Exhibition Prints

| | | | |
| --- | --- | --- | --- |
| 8x10 | | $ | 120 |
| 11x14 | | $ | 190 |
| 16x20 | | $ | 240 |

Color Prints,
specify matte or glossy finish

| | | | |
| --- | --- | --- | --- |
| 8x10 or 8x12 | | $ | 60 |
| 11x14 | | $ | 85 |
| 16x20 | | $ | 120 |
Images are typically full frame on the print size paper requested, which will leave borders on most size prints. This is helpful for matting purposes.
Prints are unmatted to honor personal choice of the collector in choosing matt color, size, thickness, etc. If you would like a print matted by us, please indicate any preferences when you order. Matting costs are quoted individually, usually between $20-$40 additional.
Fine art photos for sale here have a general turn around time of approximately 3 weeks.
Color prints for sale are printed on Fuji professional color paper.
Shipping and handling are included in the print prices.
To place an order, contact John directly.